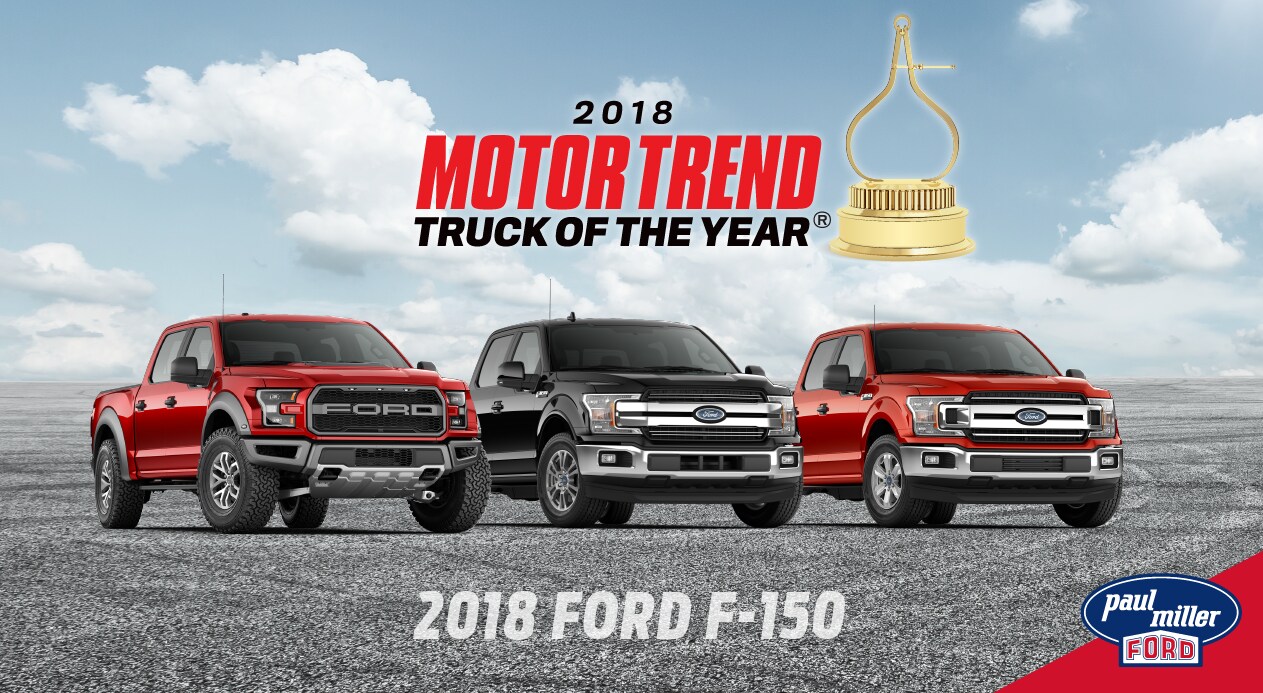 We all woke up to some great news this week: Motor Trend named the 2018 F-150 their 2018 Truck of the Year. The F-150 left no doubt—according to their reviewers, "it was a pretty resounding win. Nothing really came close."
We've always known about the F-150's dominance—there's a reason the Ford F-series has been America's best-selling truck for more than 40 years. F-150 trucks are strong, dependable, and smart, and thanks to Ford's wide lineup of trims, engines, and configurations, there's an F-150 for everyone. And because we have a 27-acre campus with plenty of truck parking (and we know Central Kentucky loves Ford trucks), we're able to stock a huge number of F-150s at any given time. Right now we have over 100 award-winning 2018 models, ready for you to test drive and take home.
Motor Trend tested four different versions of the 2018 F-150, from a rear-wheel-drive base model to a Raptor, and loved them across the board. One of the strengths of the 2018 F-150 is the sheer number of configurations available, for everything from towing trailers to everyday commutes to off-road adventures: "Ford proved its superiority with an impressive range of trucks with a different grille and wheel-tire combo for every taste."
Whether you're looking for two-wheel drive or four-wheel drive, an efficient EcoBoost engine or a roaring V8, a workhorse or a luxury ride, the F-150 has a truck for you—and it's probably available here at Paul Miller Ford. We have models on the lot that run the gamut, so trust us when we say we have an F-150 for everyone. Our 2018 models start as low as $25,750, making the 2018 Truck of the Year more attainable than ever.
Browse our selection of 2018 F-150s online or come down and see us here at the dealership. Our staff can help determine which F-150 is right for your life and your needs, and I'd encourage you to test drive a few to feel the difference between the various engines and body styles. One thing's for sure, though—if you're buying an F-150, you can't go wrong.