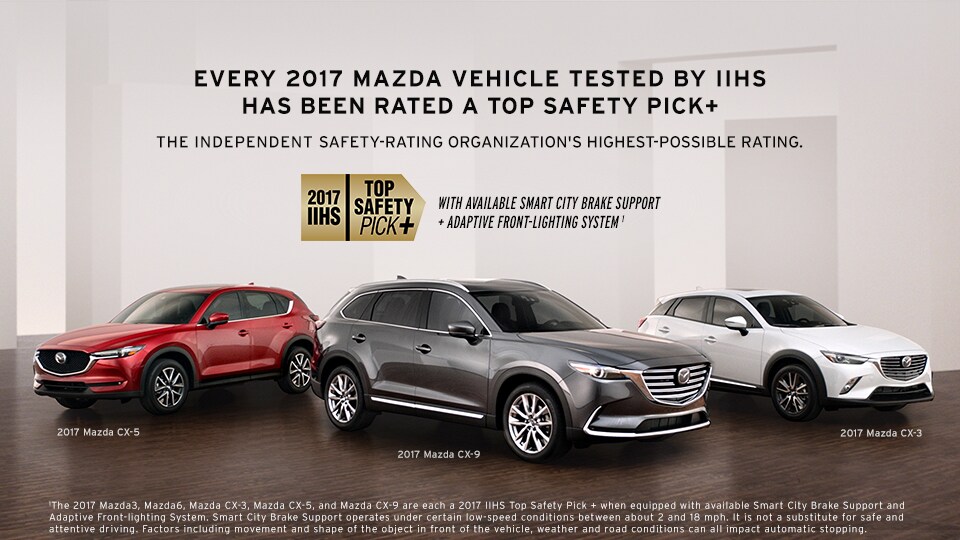 When it comes to buying a car, safety is just as important as the styling, the engine, and the performance. Whether it's a sports car that only you will drive or a spacious SUV that your whole family will ride in, safety features are a vital component of your driving experience. The best safety features are smart, intuitive, and unobtrusive—working seamlessly with you and the rest of the vehicle for a safer drive, every time.
That's why we're so proud to sell Mazda vehicles: all five Mazda models tested by the U.S. Insurance Institute for Highway Safety (IIHS) earned the organization's highest safety rating, the Top Safety Pick+. The tested vehicles included the Mazda CX-9, Mazda CX-3, Mazda3, Mazda6, and the award-winning Mazda CX-5, when equipped with front crash prevention and LED headlights. Mazda is the only brand to receive Top Safety Pick+ ratings for all 2017 models tested so far this year.
The IIHS tests are serious and comprehensive. They include frontal crashes, side crashes, roof strength tests, head restraint and seat tests that simulate how a vehicle would handle a rear impact. IIHS also tests headlight performance and any collision-warning systems in the vehicle
Mazda vehicles performed so well in these safety tests because of Mazda's tech-forward, human-first design process. No matter what aspect of the vehicle they're designing, Mazda engineers always focus on making their vehicles user-friendly, with technology that enhances the driving experience. It's never tech for tech's sake—it's always intuitive and smart.
This approach is especially important when it comes to safety. Mazda's safety philosophy is all about making driving easier, safer, and more intuitive, helping drivers recognize and avoid hazards before it's too late. This includes everything from increasing driver visibility to designing adaptive headlights and proactive front crash prevention. It all improves safety without being distracting or detracting from the driving experience—on the contrary, it improves it.
I'm proud that we offer some of the safest vehicles on the market at our Mazda dealership. If you're looking for a vehicle that offers incredible safety while still being fun to drive, I'd encourage you to test drive a Mazda today. Our award-winning staff will be ready and waiting to help you learn all about any of the 100+ new and pre-owned Mazda vehicles we have in store.