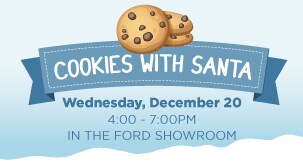 Join us for Cookies with Santa and donate to the Firefighter Toy Drive!
It's hard to believe, but the holiday season is already here. It's a fantastic time of year at Paul Miller—we're cheering on both our football and basketball teams, gearing up for our big year-end sales event, and giving back to our community through some of our favorite holiday traditions.
One of those traditions is our annual participation in the Firefighter Toy Drive. For the fourth year in a row, we are partnering with the Lexington Fraternal Order of Firefighters for their annual toy drive, which provides toys to needy families in our community. As we have in the past, we provided the Lexington FOF with a Ford Transit to help them collect toys from drop-off locations around town. This year, we've also created an online donation hub, complete with a wishlist of their most-needed toys. Things move fast during the holiday season, and the online donation site is a fast, easy way to give to a great cause.
All three of our dealerships—Paul Miller Ford, Paul Miller Mazda, and Paul Miller Auto Outlet—will have donation boxes to collect new, unwrapped toys for this year's toy drive. The boxes are already here and we're hoping to fill them up many times over before the final pick-up date of Wednesday, December 20.
The toy drive will conclude on the 20th with our annual Cookies with Santa event —another of our favorite holiday traditions at the dealership. It's a time when our dealership family can come together with the community and take part in some of the joys of the season. This year's event will include kid-friendly crafts—they can even write a letter to Santa—along with cookies and milk, and, of course, story time with Santa himself. Families can also take a photo with Santa (they'll be printed on the spot so you can take it home with you that day). Some of our friends from the Lexington Fire Department will be there to make their final toy pick-up of the toy drive. It's always a special event and I hope you and your family will join us this year. Cookies with Santa will take place from 4 to 7 p.m. on December 20 and is free and open to the public.
The holidays are a magical time of year at the dealership, and they're going to be extra special this year as we kick off our 65th anniversary. I hope you'll join us as we celebrate the season and give back to our community.