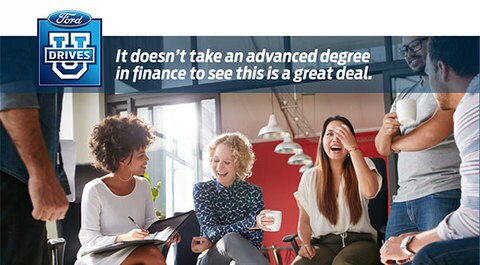 If you're currently in college, heading to college, or have graduated recently, Ford has a special program to help you get into a new car: Ford Drives U. Not only does this program offer special financing for college students and graduates, it also offers college students and grads an extra discount on their new Ford! It's a great program that rewards the hard work of college students and helps students who might have limited credit history start establishing their credit.
Who's eligible for this great program?
Active College or Trade School Students
If you're currently enrolled in an accredited four-year university, junior college, community college, or trade school, this program is open for you. And it's not just for full-time students, either—half-time students are also eligible!
Active Graduate Students
Working towards an even more advanced degree? Congratulations! Ford Drives U wants to reward your hard work, and we do too. Take a break from hitting the books and teaching classes to treat yourself to a new Ford.
Recent College Graduates
"What if I'm not an active college student?" you ask. Good news—you may still be eligible! If you're within three years of your graduation date, Ford Drives U is still an option for you. Whether you're establishing your career, starting a family, or just looking to upgrade your ride, Ford Drives U doesn't stop when you graduate.
High School Seniors and Recent High School Graduates
If you haven't started your college experience yet but are planning on it, Ford Drives U can help you get to college in a new Ford! High school seniors and recent high school graduates with a letter of intent to attend a qualifying university are also eligible for the program.
Interns, Apprentices, and Medical Residents
If you're participating in a college internship, trade school apprenticeship, or medical student residency, Ford still wants to help you with their Ford Drives U program! You need to have attended or plan to attend college classes again between May 1, 2014, and January 2, 2018.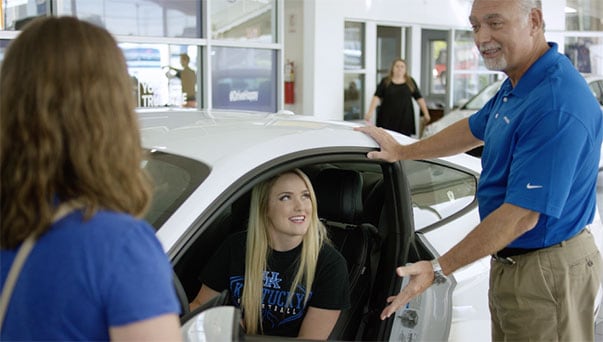 Interested? We'd love to help you find your next Ford from our huge selection at Paul Miller Ford! All you need to do is bring along some eligible documentation from your college or university—this can include a copy of your diploma or final transcript, a letter from the Registrar's office confirming your graduation date and degree earned, a letter of intent confirming enrollment, or even your current class schedule. Confirm your eligibility at the Ford Drives U website, check your inbox for your certificate, then come see us here at Paul Miller Ford! Whether you're at UK, KCTCS, U of L, EKU, or any of the other colleges and universities in the area—or if you're hitting the road and heading to school out of state—we'd be honored to help you get there in a new Ford.