Paul Miller Ford has a long tradition of working to keep our community safe. The founder of Paul Miller Ford, Paul E. Miller, threw Safety Shindigs—community dances for youngsters with clean driving records, encouraging them to drive safely. Some of these were presided over by Nick Clooney, a Lexington media personality and father of George Clooney, and a few lucky attendees even won a free Mustang as an added bonus.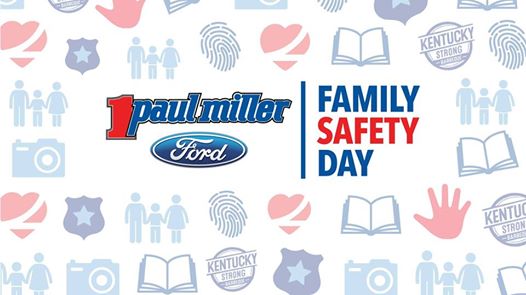 Two generations later, we've continued the tradition Safety Shindig of the 50s and 60s in a new annual event: the Paul Miller Ford Family Safety Day. This event brings together local organizations and experts to help you and your family learn how to stay safe in a fun, interactive environment that's perfect for kids of all ages. This year marks our third Family Safety Day, and this year's event is shaping up to be the biggest and best yet!
What sort of things are involved in this year's Family Safety Day? Kids can learn about law enforcement and fire safety from a police officer and a firefighter, parents can discuss home security with the experts, and every family will receive a digital copy of their child's information, including fingerprints and a high-resolution digital photo.
Family Safety Day is a fun, easy way to make sure you and your family are prepared and protected in case of an emergency. With more activities and experts than ever before, this is a can't-miss event for every Central Kentucky family.
Activities and special guests include:
· Coloring stations
· Touch a fire truck
· Meet firefighters and police officers
· McGruff the Crime Dog
· Operation Kid Safe
· Safety City with traffic signal, walk sign, mock car, and giveaways
· Lexington-Fayette County Health Department
· Child Advocacy Center
· JoEllen Wilhoite with Safety Safari journals
· Fayette County Sheriff's Office
· Safe Kids of Kentucky and the Kentucky Children's Hospital
· Bates Security
· Lexington Fire Department with a smoky-house simulation trailer
· Lexington Police Department
· Kentucky State Police
· Lexington Councilmember Angela Evans
· Commander David Lyons of the Lexington Police Department
· LifeSaver App, LLC
All families will receive:
· A child safety ID kit, including:
- Fingerprint profiles
- A high-resolution digital photo
- A safety journal
· A safety document they can hand over to law enforcement in case of an emergency
· Goodie bags for children (while supplies last)
· First aid kits, courtesy of Fortune Collision Centre (while supplies last)
I'd encourage every family in Central Kentucky with children to attend this year's event. It's an easy investment in your family's safety, and there's nothing more important than that. I hope to see you there!