Ford Motor Company continues to roll out some of the most innovative vehicles on the market—but it's not tech for tech's sake. Ford's newest technology is dedicated to improving mobility and making their vehicles safer and more fun to drive.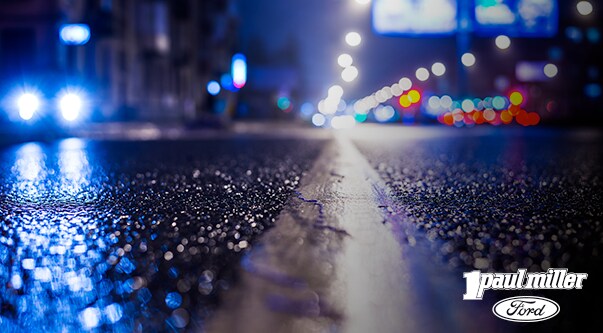 For example, the 2018
Ford F-150
and
Ford Mustang
are taking on one of mankind's oldest fears: the dark. Among the many innovations in these new vehicles is upgraded technology that makes both drivers and pedestrians safer after the sun goes down. It's the latest version of Ford's
Pedestrian Detection
technology and it's one of many reasons you're going to want to get your hands on a 2018 Mustang or F-150.
This is especially important here in Lexington, where we've seen a heartbreaking number of accidents involving vehicles and pedestrians. According to Brenna Angel, Public Information Officer for the Lexington Police Department, "Collisions involving pedestrians are on the rise across the country and here in Lexington. In 2016, Lexington Police responded to 185 incidents of collisions with pedestrians, and ten of those incidents resulted in fatalities. There are variety of factors that contribute to these types of collisions, including pedestrians walking in the roadway or not crossing at an intersection, driver inattentiveness, and a driver's inability to see the pedestrian." Lexington's Safe Streets Campaign says that pedestrian deaths accounted for a full 20% of Lexington's motor vehicle fatalities in 2016. It's easy to see why it's more important than ever to use every possible tool to keep drivers and pedestrians safe on the road.
How Ford's Pedestrian Detection Works
1) It Sees In The Dark

In short, Pedestrian Detection allows your Ford Mustang or F-150 to help you see in the dark and make decisions to keep you and pedestrians safe. You're probably familiar with rear-mounted backup cameras—they come standard in most new Fords. But to help their vehicles detect pedestrians in front of the vehicle, Ford's added a radar in the front bumper and a windshield-mounted camera to allow your car to literally see what's in front of it—during the day or at night. Combine that radar and camera with a smart database that recognizes pedestrian shapes and you have a vehicle that can see when there's a pedestrian in its path.
2) It Warns You


Once your F-150 or Mustang detects a pedestrian, it lets you know. You'll get both audible and visual warnings, including visible notifications and an alarm. Your car will do everything it can to warn you in a timely manner if it thinks you're going to have a collision with a pedestrian. But if you can't or don't heed those warnings…
3) It Stops For You


If, for whatever reason, you don't respond to your vehicle's warnings, the Pedestrian Detection system will automatically apply the brakes to slow or stop the vehicle. There are a number of reasons a driver might not respond, whether they've drifted off behind the wheel or simply can't hear the warnings. Nothing is stopping Ford from keeping drivers and pedestrians as safe as possible through the power of technology.
Obviously, Ford Pedestrian Detection doesn't replace human attention—it's vital to keep your eyes on the road and stay alert while you're driving, especially at night. But it's good to know that Ford's technology has your back, quietly making your driving experience better through every mile.
So when you start to see the 2018 F-150s and Mustangs out there on the road, know that they're working hard to keep you safe—whether you're in the car or out for a walk. Our 2018 F-150s and Mustangs are arriving here at Paul Miller Ford soon, so don't miss your chance to be one of the first to try out Ford's latest technology in two of their most popular vehicles. And whether you're driving a vehicle with Ford's newest Pedestrian Detection technology or not, be sure to stop by our Smart Lane to learn how to use all the technology in your Ford.