It's football season here in the Bluegrass, and we couldn't be more excited about it. Football season starts a little earlier for us than the rest of Lexington because of a very special event on our summer calendar: our annual commercial shoot with the UK coaches.
This year we put Coach Stoops through his paces with shoots all across the 27-acre Paul Miller Motor Company campus, including stops at Paul Miller Auto Outlet, Paul Miller Ford, Paul Miller Mazda, and Fortune Collision Centre. As always, Coach Stoops
was a champ
(as were Coaches Calipari and Mitchell, of course), despite the busy day and the hot weather. Commercial shoot days are always exciting and they're just one of the many excellent things about being a UK Athletics Benchmark Sponsor.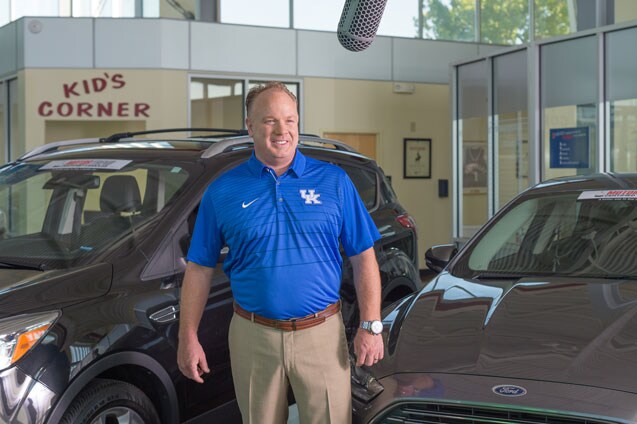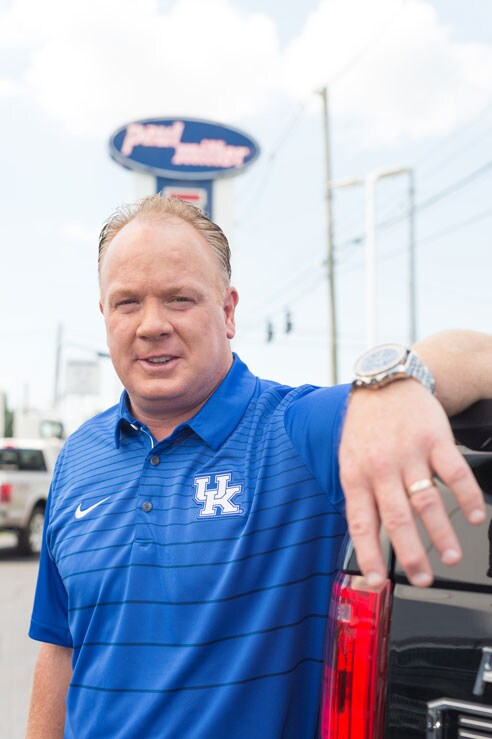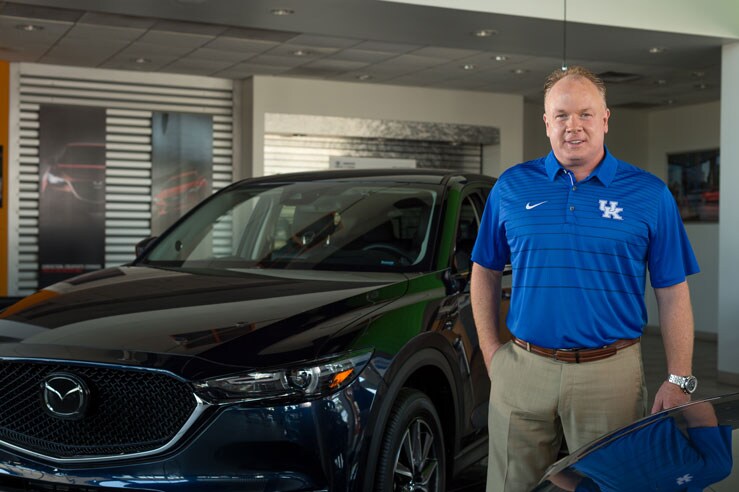 You'll be seeing Coach Stoops' face across a variety of Paul Miller commercials and ads this fall (he's big on our Motor Trend Certified Vehicles, which you can shop right here). Coach Stoops and Kentucky football are a natural match for Paul Miller Ford and Ford Motor Company—we all value community, loyalty, tradition, and strength.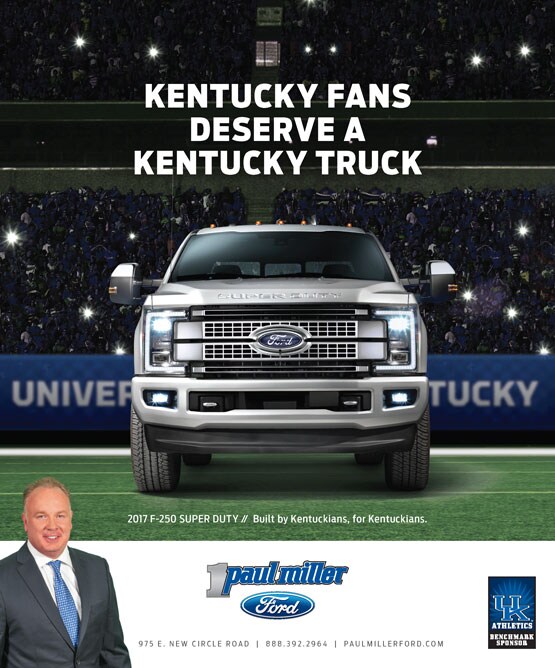 Those values come together in Ford Super Duty Trucks. Not only is the Ford Super Duty line incredibly tough (they're not called Super Duty for nothing), Ford Super Duty trucks are made right here in Kentucky. Super Duty trucks make excellent workhorses for Kentucky's contractors, farmers, and, of course, for every University of Kentucky fan —they're part of the Kentucky community and economy. They're built by Kentuckians, for Kentuckians, and we can't think of a better truck to take you from working to tailgating and everything in between.
Buying a Ford Super Duty supports Kentuckians. Buying one from Paul Miller Ford supports the
many local organizations we're proud to give back to, as well as
the hundreds of employees who make up the Paul Miller Motor Company. That's what we mean when we say we're central Kentucky's true blue dealer—we're proud to support University of Kentucky athletics (all the way back to Coach Adolph Rupp) and our entire community. So if you're shopping for a new truck this football season, visit Paul Miller Ford and let us show you our selection of Kentucky-built Ford Super Duty trucks. We're easy to find—just look for Coach Stoops on the building.